Governments worldwide regulate the sales and operations of wood-burning stoves and other combustion-based appliances; this includes specific regulations in the UK and USA regarding wood-burning stoves.
In the UK, wood-burning stoves must maintain a 300mm distance from combustibles, have a non-combustible 12mm thick hearth, and the sales of wet wood or house coal under 2 cubic metres are prohibited; stove smoke emission should not exceed 3 grams per hour.
Curious to learn more about the regulations and distances concerning wood-burning stoves in the UK and US? Read on to discover further details!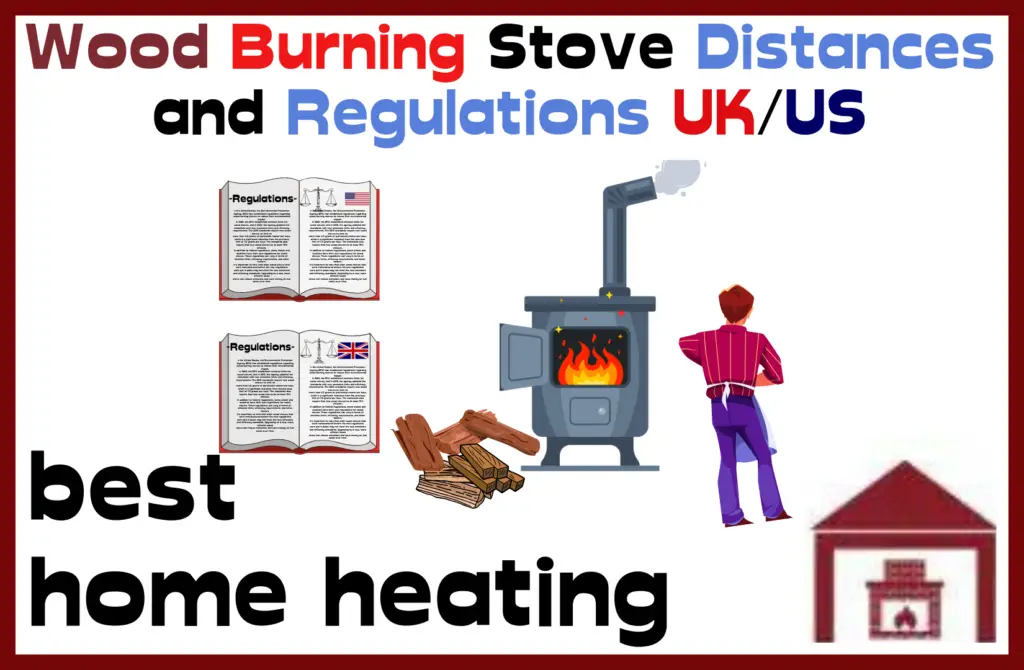 What is the minimum clearance around a wood-burning stove?
While a freestanding wood-burning stove is remarkably safe and can be installed just about anywhere, there must not be combustible materials too close to the stove.
First off, the stove must be installed on a hearth made of a non-combustible material, such as toughened glass or stone. The hearth must be at least 12 mm thick. There should be a distance of at least 150 mm between the stove and other objects in the room, on either side and the rear of the stove.
This clearance will prevent the heat from damaging the flooring, even if any burning material falls as you refuel the stove.
At a minimum, you need a 840×840 mm hearth for a freestanding installation—regardless of the size of the stove. If the appliance is installed in a recess, the hearth must take up at least 300 mm space in the front.
The distance between the hearth and the flue should be 3x the flue diameter. For instance, if the diameter of the flue is 150 mm, make sure it is at least 450 mm away from the mantlepiece.
Wood-burning stoves regulations in the UK
In the UK, new regulations for wood-burning stoves were enacted in 2022—in order to reduce the environmental impact of burning firewood. Although air pollution has dropped significantly since the mid 20th century, the Government of the United Kingdom is constantly striving to further reduce the overall environmental impact of combustion-based appliances.
The government's Clean Air Strategy 2019 stated that the emissions of a combustion-based appliance depends on the type of appliance, the way it is used, and the type of fuel used.
The new regulations offer specific guidelines and allow the sales of only EcoDesign stoves. These stoves produce very low levels of carbon dioxide, carbon monoxide, nitrogen oxides, and particulate matter. Manufacturers can sell only EcoDesign stoves, but if you have an old stove, you can still use it.
There are specific smoke control areas where people can burn only authorized fuels. Unless you have an exempt appliance, you may have to pay a fine of up to £1,000 for burning unauthorized fuel.
Carbon monoxide poisoning is a risk associated with using wood-burning stoves. That's why installing carbon monoxide detectors is mandatory for homes with wood-burning stoves.
Wood-burning stoves regulations in the USA
In the United States, wood stoves manufactured in the 1970s and 80s were just controlled burn boxes—very different from today's high-efficiency appliances that release minimal smoke and fumes. In fact, there were no emission standards before 1988. During that time, numerous manufacturers produced wood stoves that produced up to 50 grams of emissions per hour.
That changed in 1988, when non-catalytic wood-burning stoves were allowed to produce no more than 7.5 grams of emissions per hour. And for catalytic stoves, this limit was 4.5 grams per hour. For most manufacturers, meeting these emission targets was difficult. And as a result, many small companies just stopped producing wood-burning stoves.
Further regulations came in 2015, when the emission limit for all types of wood-burning stoves was set at 4.5 grams per hour. And from 2020, both catalytic and non-catalytic (Link to the article "Types of wood-Burning Stoves") stoves are required to produce no more than 2.5 grams per hour.
Due to these stringent requirements, the number of wood-burning stove manufacturers has dropped significantly. Now, the only players in the field are the companies that produce EPA-certified units.
What are the rules for a wood burner flue?
There are specific regulations for the chimney flues for wood-burning stoves. The position of the chimney flue should be carefully planned, in part because flue gasses can cause fires. Make sure your flue outlet is installed high above the surrounding buildings.
The outlet must be at least 150 mm above the masonry stack. More clearances are needed for a roof covered with thatched or such other combustible materials. The flue diameter should be 25% larger (Link to the article "Can a wood-burning stove go in the kitchen?") than the diameter of the stove outlet.
For a 20kW stove, the flue diameter must be at least 125 mm. For a larger stove, the diameter of the flue must be at least 150 mm.
A metal pipe known as a single skin flue pipe connects your wood-burning stove to a chimney. While there is no specified minimum length for this pipe, make sure it does not pass through an internal wall, floor, or roof space.
However, the building regulations in the UK do have a recommended maximum length for this pipe: 1500 mm. If the flue pipe is too long, the chimney gasses get cold, and therefore the chimney does not draw efficiently.
If you want to get a twin walled flue pipe installed, it must be kept at a safe distance from combustible materials. The flue pipe must pass through a roof space, storage space, or cupboard.
What type of wood can you burn in a wood-burning stove?
To a great extent, the efficiency of a wood-burning stove depends on the type of wood you burn. Burn only properly seasoned firewood. Burning wet wood is not only inefficient but also can damage the internal parts of your wood-burning stove.
Regardless of its level of moisture content, firewood can be categorised as hardwood and softwood. Hardwood burns for longer periods than softwood. Examples of hardwood include birch, ash, oak and maple. Softwood is cheaper and burns for shorter periods. Examples include fir, spruce, pine, cedar, tamarack and alder.
The types of wood that produce high levels of heat energy include white ash, red oak, birch, apple, ironwood, and beech. No matter what firewood you choose, make sure it has a moisture content of less than 20%. In fact, there are strict regulations for selling firewood both in the UK and the USA.
In the UK, storing firewood with a moisture content of more than 20% is illegal. And even if you sell ready-to-burn wood in bulk, the volume of each retail bag must be less than 2 cubic metres. Suppliers are required to get their wood fuel certified, and the process requires completing an application form.
In the USA, the EPA has enacted similar regulations. Prohibited fuels include unseasoned wood, plywood, cardboard, waste petroleum products, and commercial or residential garbage.
Conclusion
Like all combustion-based appliances, wood-burning stoves should be used carefully and responsibly. To reduce the environmental impact of burning wood, there are pretty strict rules and regulations both in the UK and USA.
A wood-burning stove is safe and clean only if it meets certain standards: latest technology, correct installation, and proper burning practices. Be sure to choose a modern, efficient stove, install it correctly, and burn seasoned wood only. Follow the regulations, stay safe and avoid fines!