Most people dread the notion of entering their bathroom on a chilly winter night. This is why many homeowners have chosen to install underfloor heating systems for their bathrooms. As a result, they get warm and comfy bathroom floors on a cold winter's morning.
Electric underfloor heating is well-suited to existing bathrooms and costs less to install than water-based underfloor heating. It can be installed flexibly around bathroom fittings. Water Underfloor heating is more suited to new bathrooms and installation around bathroom fittings can be difficult.
With the abundance of bathroom heating options out there, making the right choice can be tricky.
Bathroom underfloor heating (UFH) has emerged as an energy-efficient, sophisticated, and appealing solution. This post is a comprehensive guide to underfloor heating in bathrooms. Keep Reading!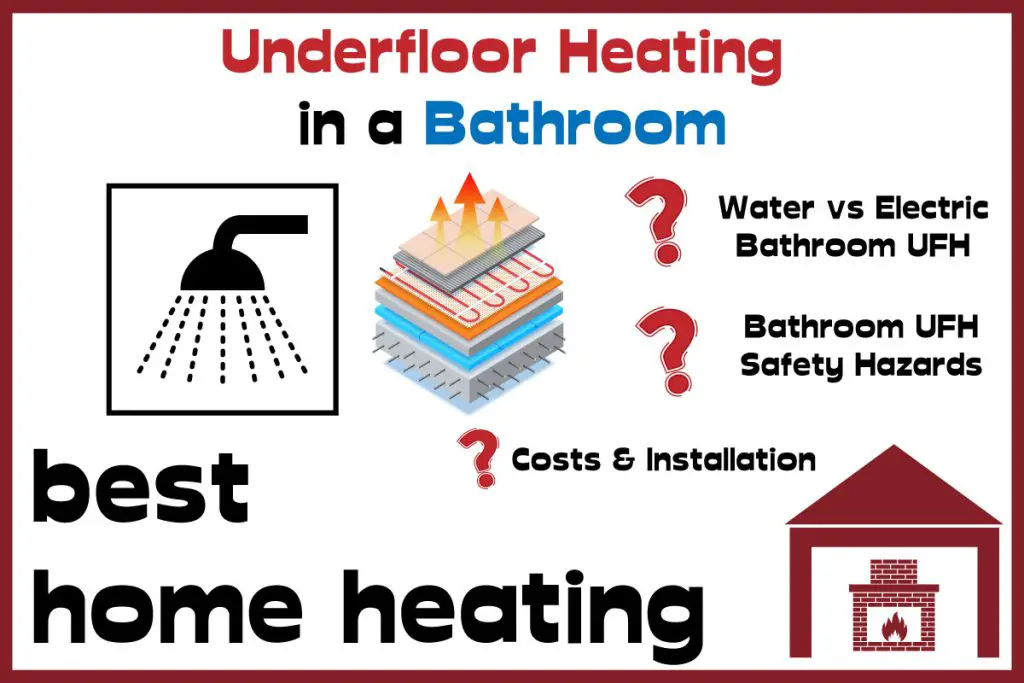 Is Underfloor Heating suitable for a Bathroom?
If you value comfort, safety, and energy efficiency, installing underfloor heating in your bathroom is worth the cost.
In a region where temperatures drop below freezing during the winter, ice-cold tiles under your feet can be scary. Underfloor heating can keep your bathroom tiles comfortably warm, making life easier for you.
There are basically two types of underfloor heating systems, Electric and Hydronic Systems. These systems are also known as Dry and Wet systems respectively.
An electric UFH system uses electricity to keep your floor warm. Thin mats embedded with electric cables are installed beneath the floor tiling. A thermostat controller connected to the thin mats is used to control the floor's warmth.
Electric UFH has gained immense popularity in part because of its ease of installation. Another remarkable advantage of dry UFH is that it heats your bathroom floor pretty fast. The system takes only a few minutes to reach the desired temperature. And when you no longer need warmth, you can simply switch off the system.
Hydronic UFH differs from electric UFH in terms of design. The mechanism of wet UFH is pretty straightforward. Tubes are laid beneath the bathroom tiles, and hot water passes through the tubes. The hot water comes from your home's central boiler.
Not all tiles are good heat conductors. Concrete is one of the best heat conductors because it spreads heat evenly across the surface area of your bathroom floor. A wet system takes remarkably longer than a dry system to warm up your bathroom floor.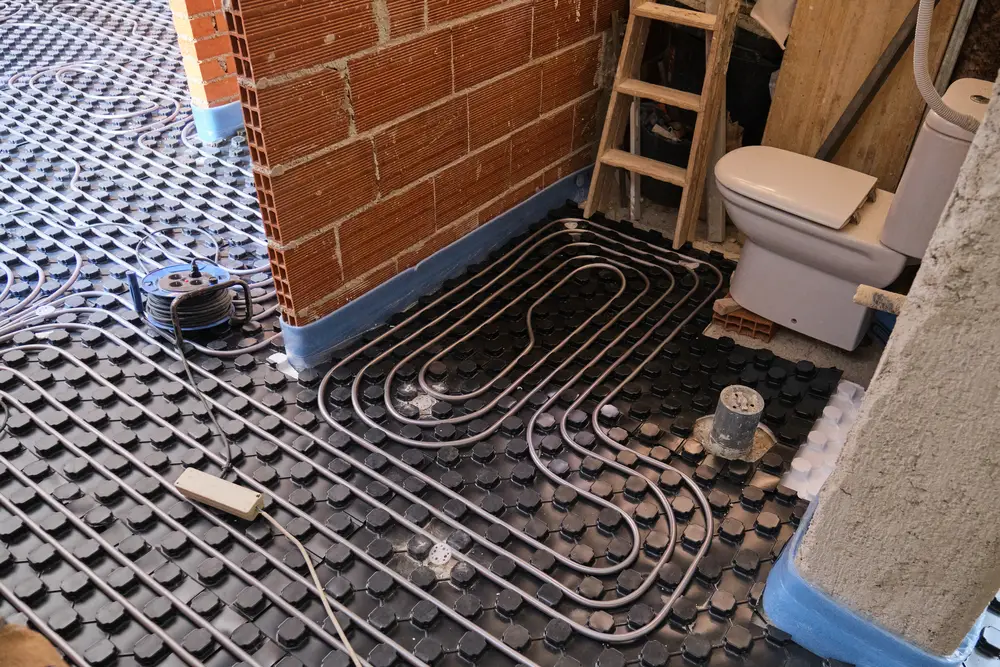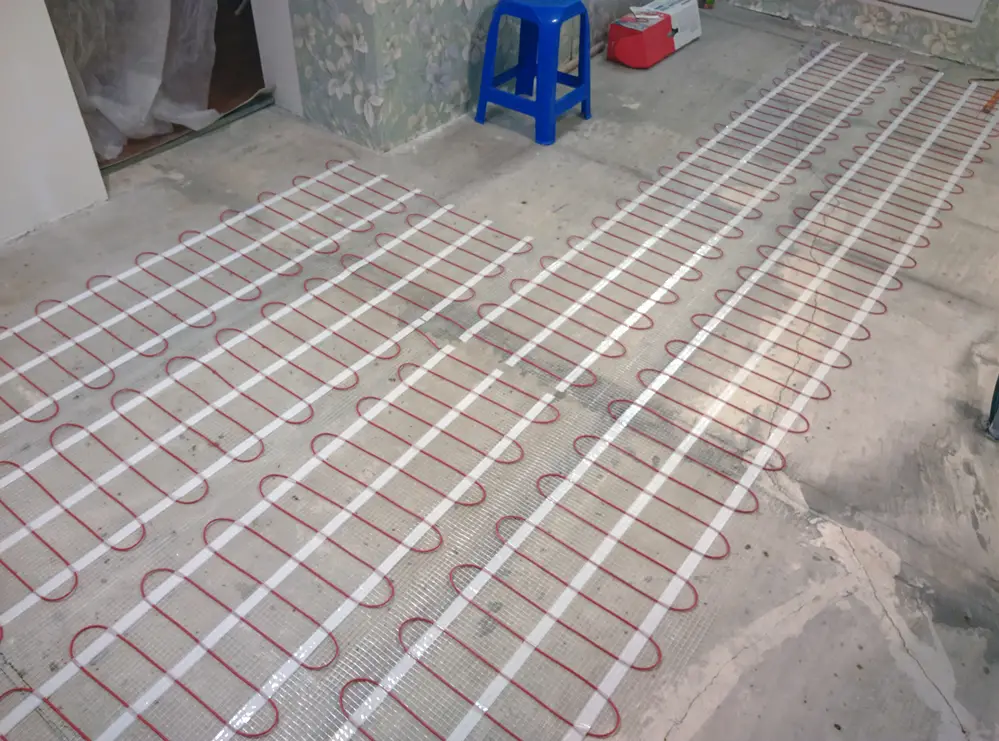 How Expensive is Bathroom Underfloor Heating?
Wet system is going to cost remarkably more than an electric system. This is because the installation process is very capital intensive and require the skills of a professional to install it properly.
A wet UFH usually costs around $120 per square meter. Depending on the size of your bathroom, the cost can add up. Electric UFH is much less expensive than a wet system. Some dry systems cost only around $20 per square meter.
When it comes to running costs, a wet system is more efficient, simply because you can run a boiler with gas or a heat pump. Using gas or other fuel is a lot more cost-effective than using electricity.
But a dry system is not expensive either. Here is a rough estimate. Assuming that you have installed a 4m² heating mat in your bathroom and the price of electricity is 12p/kWh, how much will the running cost be?
Well, if you run the system for 3 hours a day for 6 months, it will cost only around $26 for the entire winter period. However, the cost can be remarkably higher or lower depending on your geographical location because energy prices are not the same everywhere.
So, should you choose electric or hydronic UFH for your bathroom? Well, it depends on your particular circumstances. An electric system may be a good option for you if you have access to cheap electricity. The installation cost of a dry system is also remarkably lower, so you can't go wrong with this option.
On the other hand, if you have a heat pump, or if you have access to cheap gas, feel free to opt for a wet system.
In general, hydronic UFH is more suitable for large surface areas. Therefore, if you are installing UFH only in your bathroom, a dry (electric) system may be a better option for you.
Is Underfloor Heating in a Bathroom Difficult to Install?
Whether you are building a new bathroom or renovating an old one, the installation of UFH is not that complicated. While most projects are done by professionals, you may consider doing it yourself if you have the time and resources.
Typically, a UFH system is laid on insulation amidst the various layers required to install them. There are video tutorials that show how to lay the pipework and adjust the manifolds. You will find the task easier if you follow the pipe layout drawings provided by the chosen company.
In brief, the procedure involves measuring the floor, acquiring the materials, inspecting the subfloor, installing the heating mats, and connecting the thermostat. The installation of a wet system is a bit complicated due to the pipes and boilers, particularly in a renovation project. If you have never worked on a similar project, consider getting in touch with a reliable contractor.
Can you put Underfloor Heating under a Bath (and other Bathroom Furniture)?
While you can safely place most free-standing furniture on underfloor heating, placing flat-bottomed items is not a good idea, because they can restrict the airflow and cause the spot to heat up excessively. As a rule of thumb, you should avoid placing anything with a TOG (thermal overall grade) of 2.5 or higher.
We do not recommend that you place baths on underfloor heating. It's unlikely to cause any damage, but the baths will reduce the efficiency of the heating system.
It is important to be specific about the size of your electric underfloor heating mat. You also have to be a bit strategic when installing the mat, because fixtures and cabinets occupying the bathroom floor space should be taken into account. You can click here for more information on placing furniture on underfloor heating.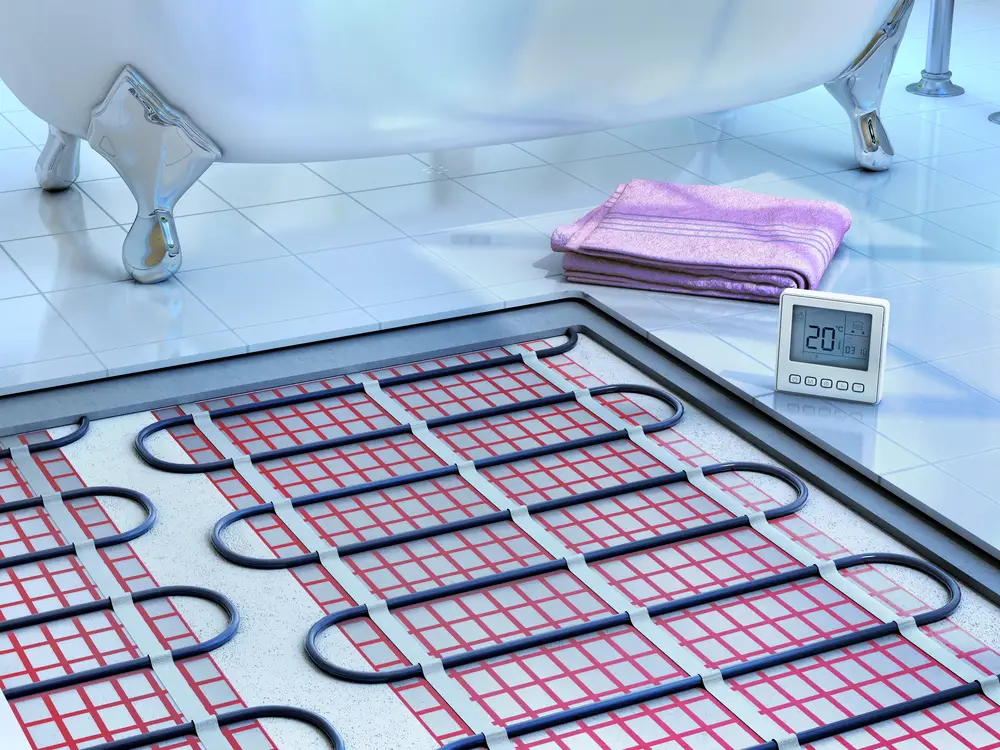 Are Tiled Bathroom Floors suited to Underfloor Heating?
Yes. Due to their properties, tiles and underfloor heating are a great pairing. Tiles are good conductors. They transfer heat quickly, making your bathroom comfortable within a short period of time.
With that said, not all tiles are not the same in terms of heat conductivity. While some tiles transfer heat very efficiently, others do not. Ceramic and stone tiles work very well with both hydronic and electric UFH. Limestone, slate, and marble are pretty good options.
Kindly check BestHomeHeating's article on Tiled Bathroom Floors.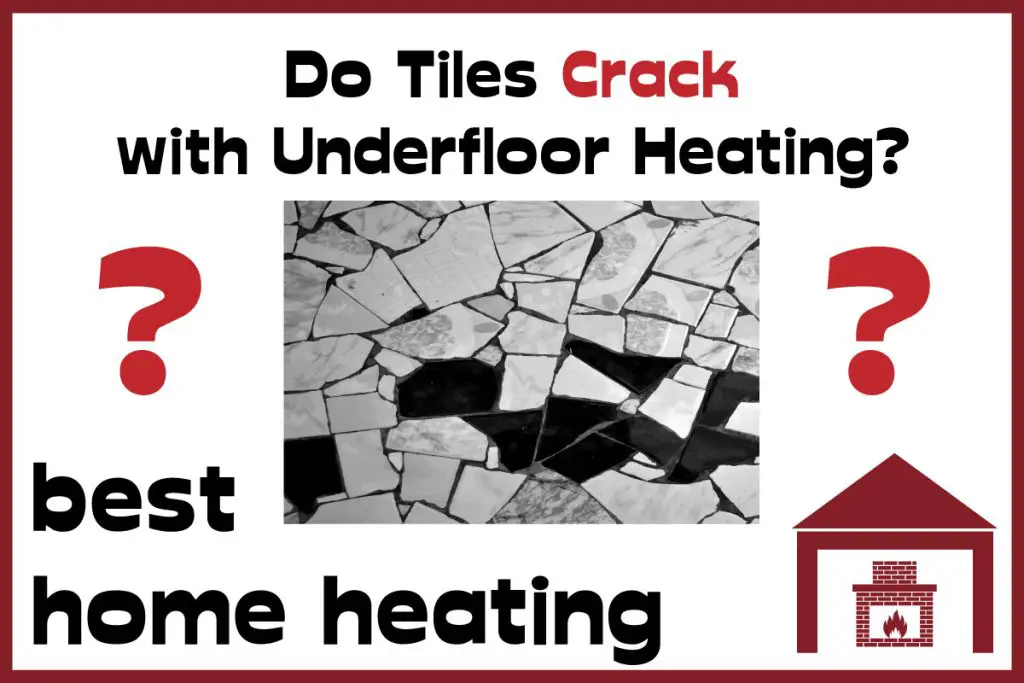 Is Bathroom Underfloor heating safe?
Bathroom underfloor heating is completely safe if the project is done in accordance with some safety rules. The temperature is regulated by a thermostat, which never allows the floor to get uncomfortably hot. The system gives you complete control over the temperature of your bathroom floor.
The proximity of water and electricity is not a matter of concern either, because insulation prevents water from coming in contact with electricity.
Bathroom underfloor heating is safe for children because there are no exposed elements or wiring. There is no risk of fire hazards. If there is a fault, the elements melt, preventing ignition. UFH is safer than most other methods of heating.
You can visit this link for more information on Underfloor heating safety.
Conclusion
You can either make use of water underfloor heating or electric underfloor heating for heating your bathrooms. Before thinking about which particular type of underfloor heating to install, there are certain things you need to put into consideration. They include the following:
Size of the Bathroom
Renovation or a New Bathroom Build
Shape of the Bathroom
Factors
Water Underfloor Heating
Electric Underfloor Heating
Size of The Bathroom
Water Underfloor heating is more suited to heat large sized bathrooms as its average operating cost slightly increases with increasing room width.
Electric Underfloor heating is much suited to smaller bathrooms, this is because it has higher operating costs and as the size of the bathroom increases, its operating cost increases significantly.
Renovation or New Build
If you are just building your Bathroom, water underfloor heating is the right choice for you.

For a renovation project, pulling out the whole floor just to install it may not be a wise choice.
Electric Underfloor Heating is best suited to bathrooms that have already been constructed. It takes very little time to install.
Shape of the Bathroom
This is one the main reasons why water underfloor heating is not used often in bathrooms. Since there are fixed furniture in the bathroom, having to install it around it a very grueling task.

Also, some homeowners usually install denser installation boards under those fittings, just to ensure the heat does not get transferred to the fittings if they make use of water underfloor heating. Although this process is quite expensive.
This is why it is the best option for bathrooms regardless of its operating cost. It can easily fit around fittings in the Bathroom.