Underfloor heating systems can be used with most free-standing furniture. When placing items such as thick rugs or dog beds in the room, be careful as they can trap heat and cause problems.  
When flat-bottomed furniture is placed over underfloor heating areas, the airflow can be restricted and the area can heat up. This could damage the furniture or the underfloor heating itself. Thick rugs, bean bags, and any other item with a TOG (Thermal Overall Grade) value greater than 2.5 should be kept off underfloor heating if possible.
As a result of mild heat and low humidity, the environment is kinder for furniture, and dust and mites are less likely to circulate. The air is cleaner and less allergenic as a result. Due to the fact that there is no exposed hot surface or sharp edges, underfloor heating is ideal for allergy sufferers, elderly people, and children.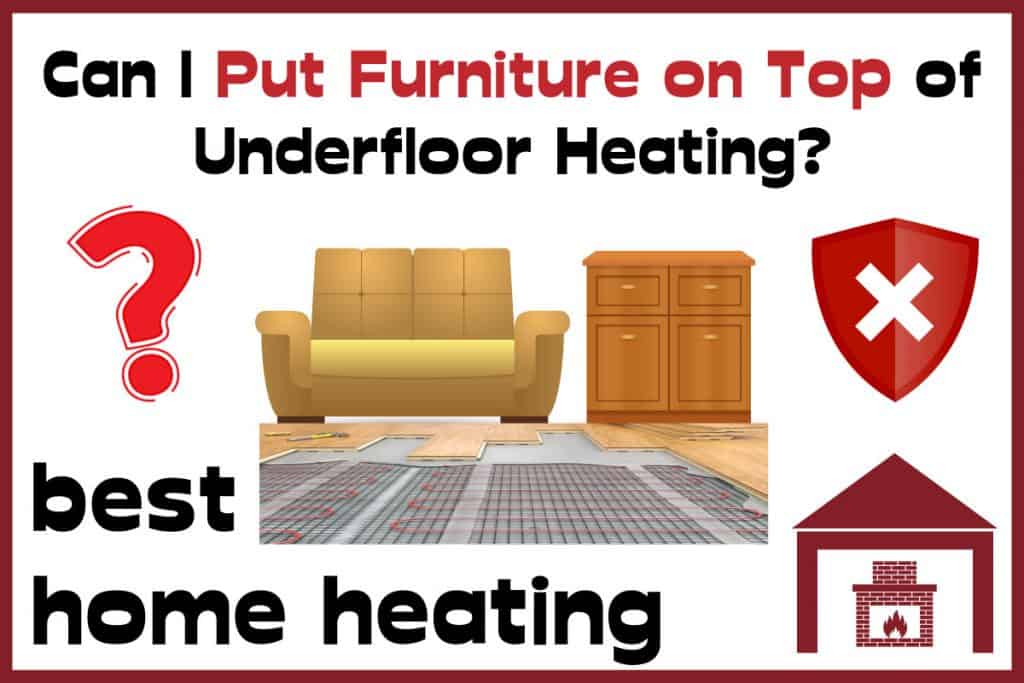 Which types of furniture can go on top of underfloor heating?
Most free-standing furniture can be placed on top of underfloor heating. Furniture(chairs, beds) placed on underfloor heating systems, should have a ground clearance of 2-3 inches or about 10cm to avoid hotspots caused by lack of airflow around those areas.
Also, you must be careful when placing items like dog beds or thick rugs over underfloor heating because they can reduce heat distribution, cause discoloration of floor coverings(e.g. carpets) create hotspots which could eventually lead to fire outbreaks in cases where carpets are used as floor coverings.
Stone and tile flooring are generally used with underfloor heating. That is because they have higher thermal conductivity and can transfer heat to the surface of the floor. Since the main reason for installing underfloor heating is to maximize heat transfer, it implies that furniture that won't affect the transfer of heat can be placed on top of the underfloor heating.  
The loose wire type of underfloor heating is to be used in places like bathrooms and kitchens where there are fixed units(such as sinks, baths, cupboards) as it can be used to maneuver around those fixed areas. This will prevent the formation of hot spots that can damage the floor when air circulation is insufficient.
It is generally okay to place furniture over a heated floor, but you need to be cautious too. You need to ensure that the furniture and the underfloor heating are not damaged.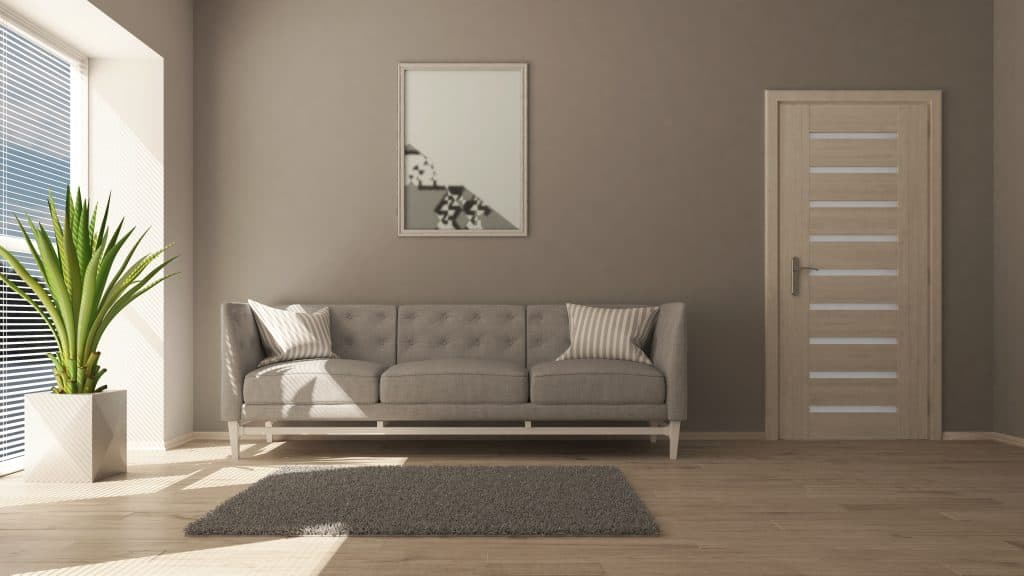 Does underfloor heating damage furniture?
The chance of underfloor heating to damage furniture depends on the type of furniture. Since you are dealing with heat, you might want to be careful because furniture reacts differently when exposed to heat. For example, a bean bag should be kept from heat, let alone underfloor heating. This is because heat can cause the bean bag to expand or even damage it.
Since furniture reacts differently to heat, how do you identify furniture that will get damaged by underfloor heating? It's simple. The main thing to look out for is the material the furniture is made from.
Wooden furniture may show little or no reaction to heat because it is a poor conductor of heat, while metallic furniture, on the other hand, can enhance the transfer of heat. For furniture made from plastic or rubber, it is best to keep them away from heat because it can cause damage.
What furniture can you not put on underfloor heating?
As mentioned earlier, underfloor heating can cause damage to some furniture. That is why it is advised that not every piece of furniture should be kept on top of underfloor heating. For example, flat bottomed furniture should not be kept on top of underfloor heating or over where the heating cable is located. That is because it can affect the flow of air, thereby causing thermal blocking which could result in a fire outbreak.
With that being said, the best underfloor heating flooring is one that can transfer heat efficiently from the heating system to the floor surface. Hard surfaces like ceramic tiles, engineered wood, and stone offer the best thermal conductivity. There are also other options to use.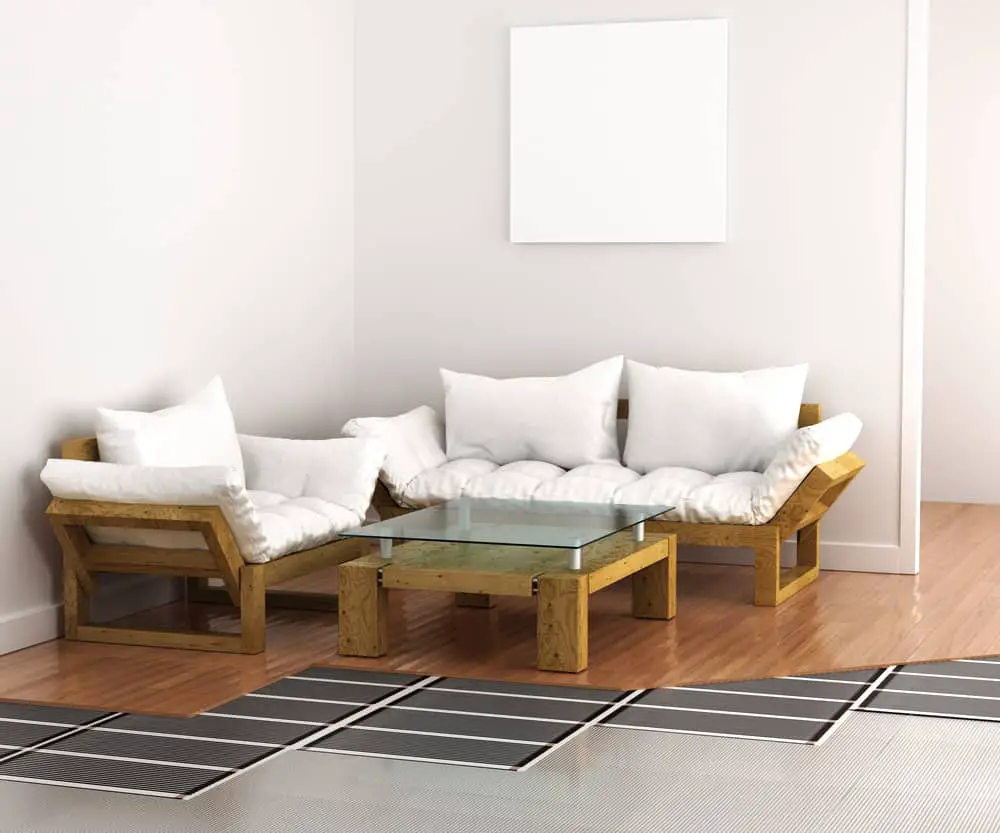 What could go wrong with furniture on Underfloor heating?
As long as the furniture placed on the underfloor heating has the required ground clearance from the ground, there's a very slight chance of any hazards occurring. Possible hazards could stem from improper installation of the underfloor heating system or the use of substandard materials in the connection layout.
Also, it should be important to note that wooden floors should be free of moisture before switching on the underfloor heating system. Due to the porous nature of wood, water could seep into the underfloor heating system which could lead to short circuits across the connection layout and potentially fire outbreaks.
Types of Electric Underfloor Heating Configurations
The types of electric underfloor heating systems are dependent on where it is to be used. You can choose different types depending on the room and on the furniture plans. They include the following:
Loose Wire systems: These are used in room spaces where there are lots of furniture, fittings, or fixed objects as they can be used to maneuver those objects due to their flexibility. They are ideal for irregular-shaped rooms or small rooms. This system is very compatible with tile flooring.
Sticky-Mat systems: These are used for spaces with regular shapes. They are very easy to install and compatible with all floor finishes.
DCM-PRO systems: This configuration can be used for all types of floor finishes, including tiles. They prevent the cracking of tiles caused by expansion as a result of seasonal temperature changes. The anti-fracture matting in this system helps to prevent cracking of the tiles by adjusting(contracting or expanding) based on the temperature at that particular time.
Water-based underfloor heating systems are a little less flexible. You will need to decide if any areas (eg where you will definitely have kitchen units or flat bottomed furniture) need to be avoided and tell the installer early.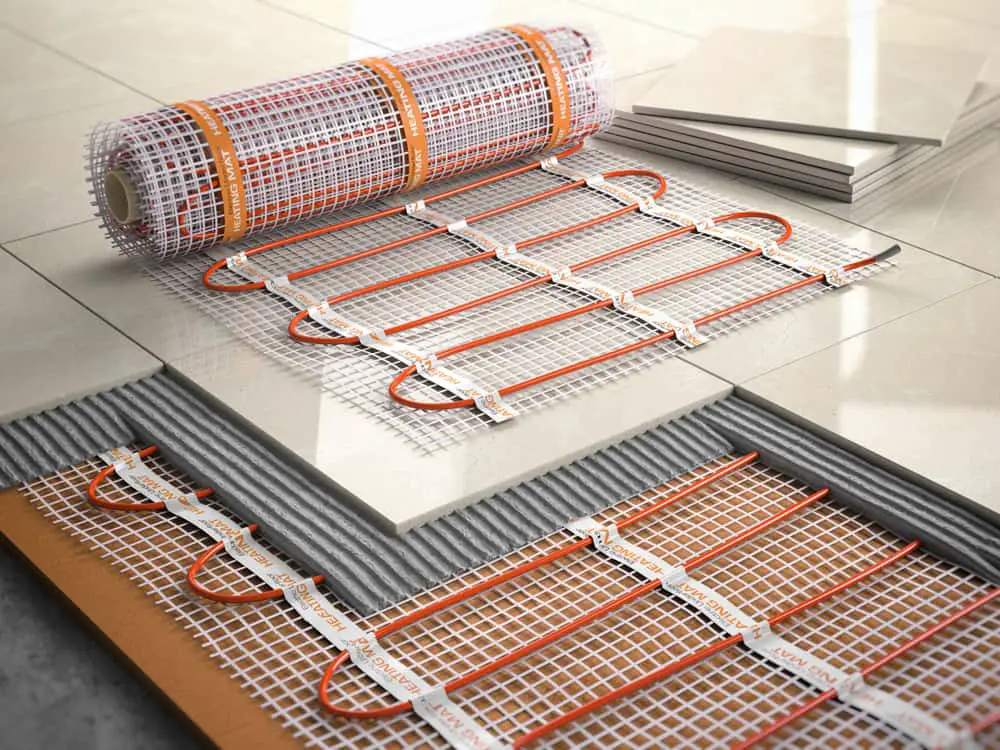 Design your underfloor heating installation with furniture in mind
Just like other projects, there's a standard process to follow when installing underfloor heating. These processes must be followed because once the installation is completed, the underfloor heating pipework will not be accessible anymore. Therefore, correcting mistakes will be time-consuming, costly, and also frustrating.
One of the most important considerations to make when installing underfloor heating is furniture. The type of furniture placed in the room and the material the furniture is made of should be considered. As mentioned earlier, for fixed bodies like kitchen units, underfloor heating wiring should be installed around such furniture to prevent heat isolation.
It is better not to install the underfloor heating in areas where furniture that will not conduct heat well enough is placed. Therefore, before installing your underfloor heating, it is important to analyze the furniture in your house first and install it with respect to that.
Conclusion – Can I put furniture on top of underfloor heating?
Yes! You can place furniture on underfloor heating, provided that the heat won't damage the furniture. Also, avoid placing underfloor heating under kitchen units, baths, and other fixed units. This is because they can reduce the heating system's efficiency and cause problems like hot spots that can damage the heating system and even the floor surface.
A well-designed underfloor heating system should work well and consider furniture, fixture, and fittings. Carpets used with underfloor heating should not serve as insulation to the floor(trapping the heat), they should have a TOG of less than 1.5. Tiles and concrete floors work best with underfloor heating as they help dissipate heat evenly.
Lots more Underfloor Heating Information Here