Upstairs underfloor heating is a luxury that many homeowners dream of. Warm and toasty bedroom and bathroom floors on a cold morning are just fantastic. We will cover the Pros and Cons, the costs, problems, and practicalities of upstairs underfloor heating.
You can have upstairs underfloor heating, however, capital intensive installation means extensive upstairs underfloor heating can be challenging. You also need enough space between floors to accommodate the system. Many homes combine downstairs underfloor heating with radiators on upper floors.
Underfloor heating systems can be directly installed over solid subfloors like existing plywood, concrete floors, wooden floors, and tiles. You need to consider what the floor structure is on the upstairs level in your home.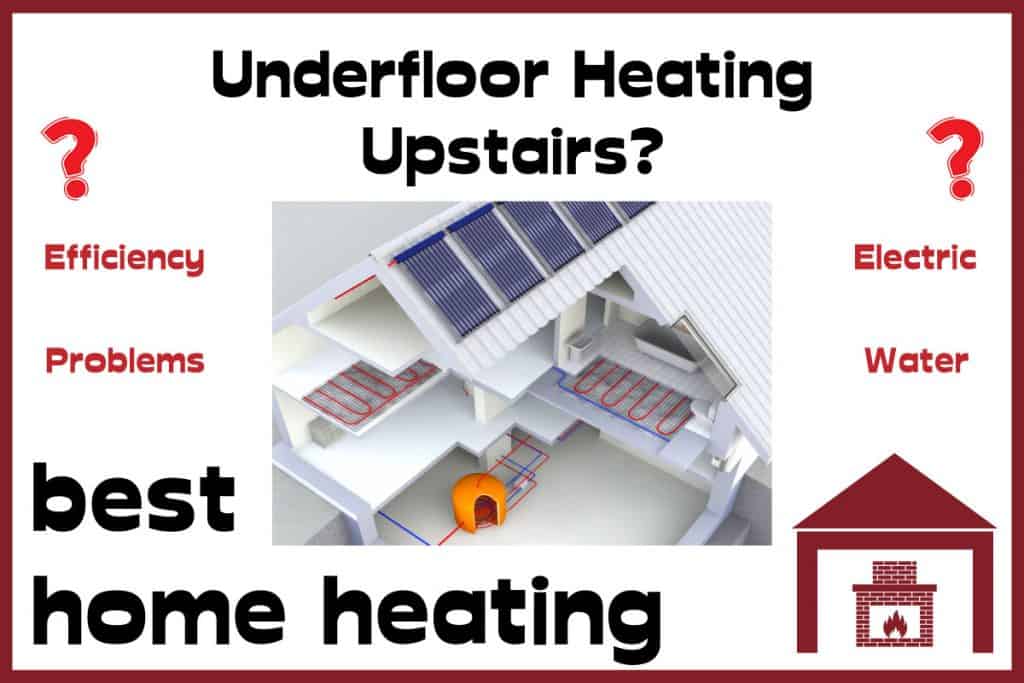 Is Water or Electric Underfloor Heating better for Upper Floors?
Water and Electric underfloor heating can both be suitable for underfloor heating. The choice of which to pick is dependent on some factors which include; Initial cost, ease of installation, and floor height increase.
Water underfloor heating has a higher initial cost of installation but can operate with low running costs, compared to electric underfloor heating. The cost of the underfloor heating per square meter for electric heat mats is generally around £50 to £75. The cost can vary depending on heater controls, technician's fees, and insulation. Wet underfloor heating systems are more expensive and can cost thousands to install.
Water Underfloor heating systems are primarily used in new buildings, since it is easier to incorporate them into the building plans, rather than having to reconstruct the floor just to fit it in. Electric Underfloor heating is more commonly used in homes that have been built already since they can be easily fitted into the property.
Water underfloor heating also raises the floor height more and requires lots of space for installation compared to electric underfloor heating which can be easily fitted into the building with little to no increase in the floor level.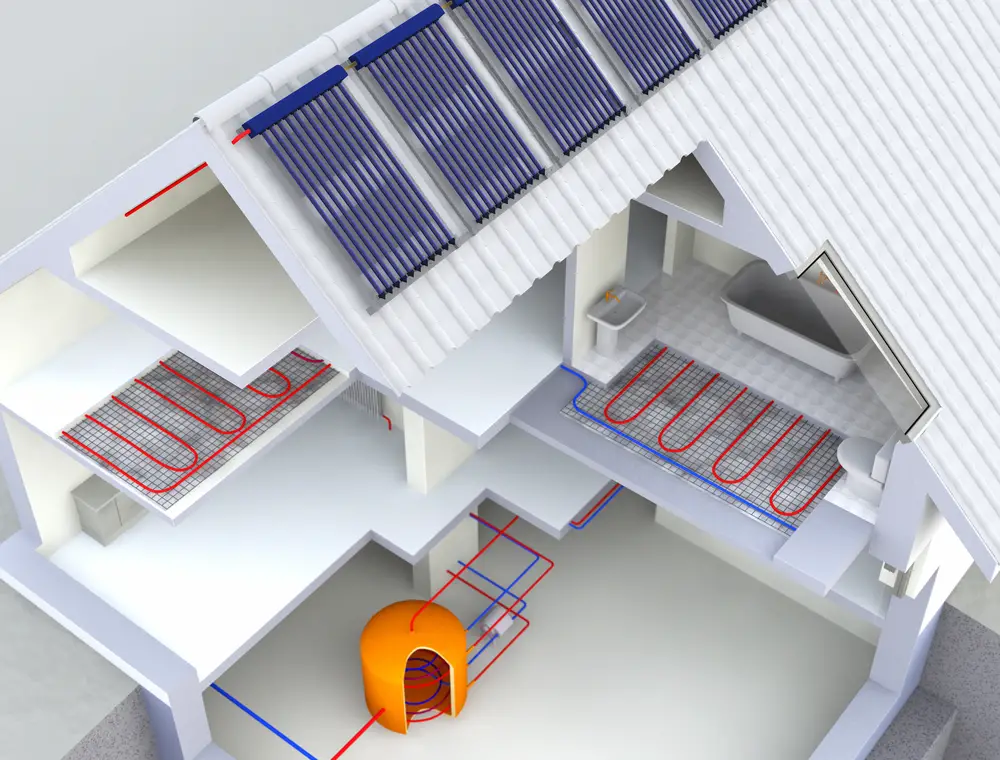 Retrofitting Upstairs Underfloor Heating – How difficult is it?
Retrofitting underfloor heating could be relatively very easy or difficult depending on the type of underfloor heating to be used. For retrofitting to occur the installer has to take into consideration if:
the existing floor is retained or must it be removed and reinstated.
the insulation of the house is up to the current standard.
Electric underfloor heating systems are better suited to retrofitting due to their ease of installation, compared to water underfloor heating, which could require reconstruction of the floor, just to fit it in the pipes needed. For example, Nu-Heat Lo Pro's underfloor heating system is installed over the existing floor without having to excavate.
Water Underfloor heating can be used when retrofitting but due to its complexity and cost of installation, it is advisable to make use of electric underfloor heating.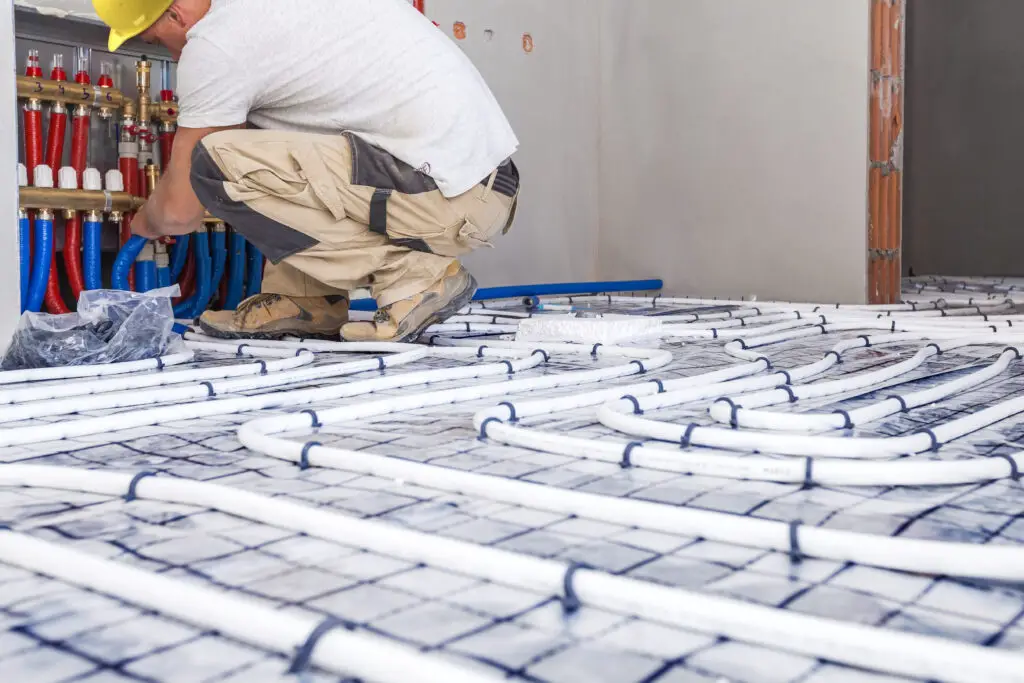 Can you combine underfloor heating with radiators?
It is possible to have radiators upstairs and underfloor heating downstairs. Combining radiators upstairs with heated floors downstairs is common due to its low cost of installation, but underfloor heating upstairs would be more cost-effective (in the long run) than radiators.
At the moment, underfloor heating is seen as a technology that will replace radiators. A common practice is to install underfloor heating in new extensions of a building and leave the radiators throughout the rest of the house. That is because new buildings are likely to be screed or concrete, which is more ideal for an underfloor heating system.
Underfloor heating can be installed without disrupting or replacing an existing radiator system. Also, underfloor heating can run off existing radiator circuits, which is great for living spaces and new kitchens.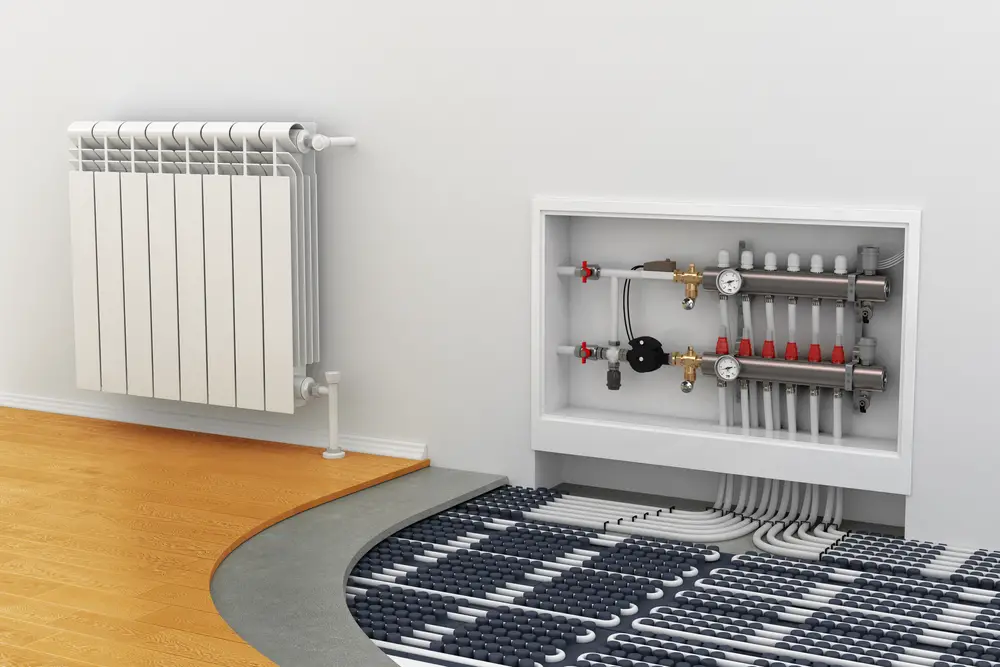 What are the advantages of upstairs underfloor heating?
Using underfloor heating systems upstairs is becoming a common practice. Having an understanding of the advantages that this practice can bring will help you make informed decisions.
The efficiency of the heating system: The use of underfloor heating for both the ground floor and suspended floor, improves the efficiency of the system. This is because the heating system produces the same heat temperature for both floors, unlike radiators, where there is a temperature difference for across floors. Heat pumps may struggle to produce the temperatures need for both systems.
Thermal mass: The layers associated with underfloor heating serve as a thermal mass for the building. This enables the underfloor heating system to absorb, store, and release heat. It also ensures that there are no temperature fluctuations, caused by heat loss.
Space: The use of underfloor heating systems will eliminate the space that radiators consume. Radiators can reduce useable space by 15%. Efficient space utilization is important for buildings like hotels, student accommodation, apartments, care homes, motels, etc.
What problems are associated with upstairs underfloor heating?
The most common problems associated with upstairs underfloor heating are air-locked pipes, zones not heating up, worn-out pumps, and wiring issues. These issues can be easily sorted out.
Air Locked Pipes: Air can get trapped in the underfloor pipe network, which can reduce the heating system's effectiveness.
Worn Out Pumps: The underfloor heating water pumps can wear out with time, especially when used regularly with long and high capacity systems across multiple floors.
Wiring Problems: Wiring problems can cause the thermostat to stop working or the boiler not to engage properly.
Reconstruction: In most cases where water underfloor heating is used, the floor would have to be reconstructed for it to be installed, hence more money, time, and energy is expended.
Is Underfloor heating difficult to install upstairs?
Underfloor heating is not difficult to install upstairs for professionals. However, you must bear in mind that you can only build it once or risk having it turn into an expensive project. There are so many factors to consider during the design and installation phases. Here are some of the things to do to make the process stress-free:
Determine the heat source first: The choice of heat source would depend on the size of your floor space. A regular boiler is sufficient for smaller systems because it offers sufficient pump capacity. A ground source heat pump supplying the underfloor heating will need to be of adequate size and have enough heating loops to power the underfloor heating system.
Room control: People usually opt for a separate room control for up to 30% of underfloor heating systems. You can apply an electrical control or a wireless control system if required.
Border Zone: A border zone in the heating system may be suitable in situations where a glass façade is present. That will help to prevent cold traps and also generate warmth to increase comfort.
Location of manifold: Carefully analyze the design before you choose a location for the manifold. For ease, it is best to choose a place where it would be easy to install. A location where central heating pipes can be passed around neatly. The best place for a manifold is usually under stairs, in the wall, or the storage area.
Heat loss calculation: People often overlook heat loss calculation because of the financial implication that is involved. However, it is still good to invest in heat loss calculations and incorporate the underfloor heating design calculation results. These calculations will reveal the ideal temperature needed for different areas.
A lot of detail is often required when installing underfloor heating upstairs, and this can make the task somewhat difficult for most people. Therefore, it is important to carry out the necessary measures to make the installation process effective.
Conclusion – Is Upstairs Underfloor heating a good investment?
Upstairs underfloor heating is a good investment, even though it may not be as cheap as radiators. Underfloor heating is generally eco-friendly and will save you money in the long run.
Underfloor heating systems can be used for upstairs (electric or water-based systems can be used but there are lots of considerations with each type). Retrofitting an underfloor heating system is easier when using electric heating mats.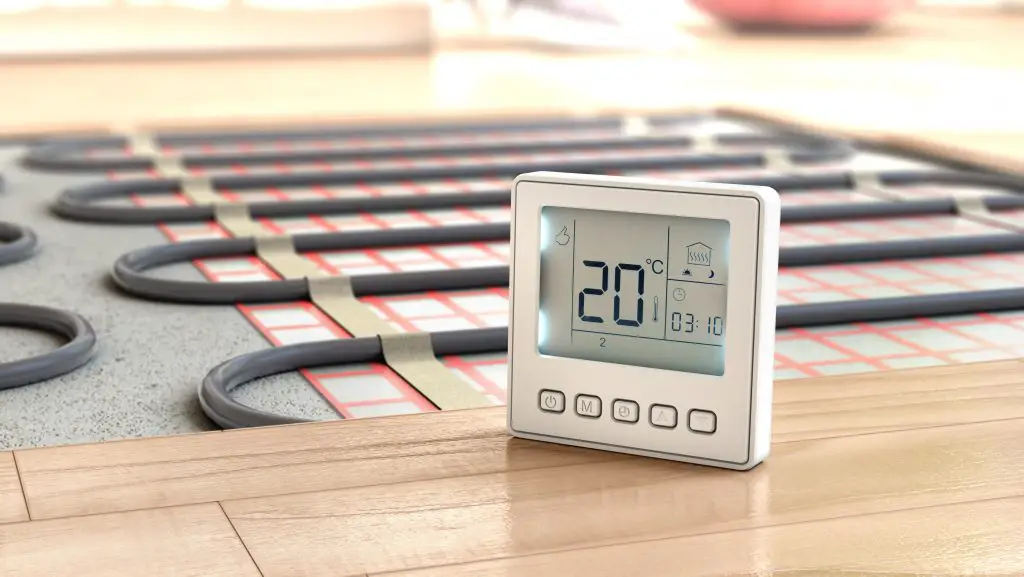 Lots more Underfloor Heating Information Here